We promote our employees'
health and well-being
Benefits
This brief overview provides a description of the benefits available to the employees of Inspira Health.
Keeping our employees at the center of all we do, Inspira Health has a Total Rewards philosophy that includes five cornerstones of offerings: Benefits, Rewards and Recognition, Career Development, Work/Life Balance, and Compensation.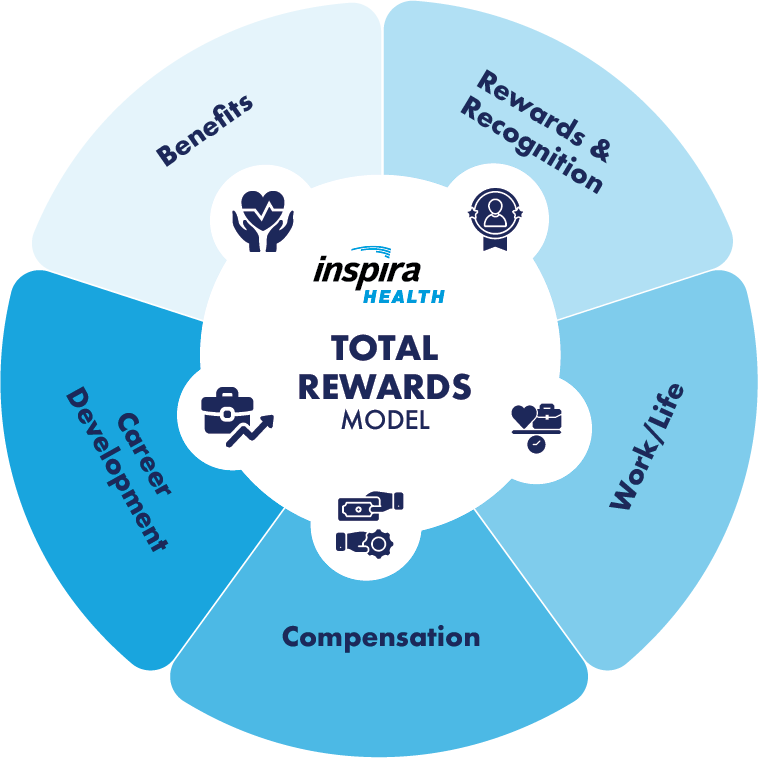 Our excellent benefits package includes:
Medical Insurance Plan
Inspira offers two options, both of which are administered by Horizon BC/BS: Horizon Omnia Plan, which does not require you to select a primary care physician or get referrals, and the Horizon High Deductible Health plan with Health Saving Account, which allows you to use pre-tax dollars to pay for your health care needs.
Prescription Plan
Administered through CVS Caremark, this benefit allows you to purchase necessary prescription drugs after a small co-payment, through mail order or at a retail CVS location.
Vision Care Reimbursement
Voluntary vision coverage is offered through United Healthcare's provider network. You will receive affordable, quality vision care, including a complete eye examination, as well as materials (if needed).
Dental Insurance Plan
Managed through Horizon Blue Cross/Blue Shield Dental of New Jersey, this plan offers two options from which to choose. Most preventive services including cleanings, and annual x-rays are covered at 100%.
Flexible Spending Program
This plan enables you to set aside pre-tax dollars to pay for health premiums, unreimbursed medical, dental and dependent care expenses.
Wellness Programs
Inspira supports our employees who wish to lead healthier lifestyles. We offer smoking cessation, weight management programs, nutritional counseling, discounts to Inspira fitness centers and more.
Group Life Insurance
Inspira offers all benefit eligible employees life insurance coverage and accidental death and dismemberment coverage of up to two times base annual salary at no cost to the employee.
Retirement Plan
Inspira offers a voluntary 403b retirement savings plan with a matching contribution for eligible employees.
Tuition Assistance
Up to $5,000 per year is available to eligible employees, including assistance for college degree programs and continuing education credits to maintain nationally recognized certification courses.
Paid Time Off
Employees accrue time off each pay period based on job title and length of service. PTO may be used for vacation, sick, holidays or personal time.
Other Benefits
A variety of voluntary benefits are offered including short term disability, hospital indemnity, critical care coverage, group legal and cancer coverage.
Inspira University
Employees are encouraged to attend free professional and personal development classes through Inspira University. Inspira also offers tuition reimbursement, pre-pay for certifications, other continuing education opportunities and a Premier Partnership with Rowan College of South Jersey.
Veterans Called for Active Duty
Inspira will supplement the difference between regular pay and what is received while on military leave for up to 12 months per assignment.
Rewards & Recognition
At Inspira, our greatest asset is our employees. Inspira offers many rewards and recognition opportunities including Employee of the Month, DAISY Award for Extraordinary Nurses, Speak Up for Safety "Great Catch" Award, service awards, and company sponsored events.
Wellness initiatives
Walking programs/paths for employees
Healthy eating choices in campus cafeterias
Fun, wellness-oriented events throughout the year
Quarterly Health Seminars at each campus
Volleyball & PickleBall courts in Vineland for pick-up games
Reduced memberships at Inspira Fitness Connections in Vineland and Bridgeton
Intramural golf and bowling leagues
Group Health Plan MRF
The following links contain information related to Inspira Health's group health plan; an in-network rate and out-of-network allowed amount machine readable file required by the Affordable Care Act transparency rule.
View Here